Among the many provisions covering nearly 1,100 pages of the 'American Recovery and Reinvestment Act of 2009', scheduled to be signed today by President Obama, most Realtors are curious about what the housing elements of the bill are. Here is a chart prepared by NAR summarizing the revisions to the First Time Homebuyer Tax Credit.
Home buyers who hoped for a $15,000 tax credit to buy a new home, as promised by the Senate, will be disappointed. A proposed $35 billion credit to support home sales was jettisoned in favor of a more modest $2 billion to $3 billion provision.
H.R. 1, the "American Recovery and Reinvestment Act of 2009," passed the House on February 13, 2009, by a vote of 246 – 184. Later that day, the Senate also passed the bill by a vote of 60 – 38. The President is expected to sign the bill soon. The bill is a $780 billion package, with roughly 35% of the package devoted to tax cuts (mostly for 2009) and the rest to spending intended to occur in 2009 and 2010.
Homebuyer Tax Credit
– The bill provides for a $8,000 tax credit that would be available to first-time home buyers for the purchase of a principal residence on or after January 1, 2009 and before December 1, 2009.  The credit does not require repayment.  Most of the mechanics of the credit will be the same as under the 2008 rules:  the credit will be claimed on a tax return to reduce the purchaser's income tax liability.  If any credit amount remains unused, then the unused amount will be refunded as a check to the purchaser.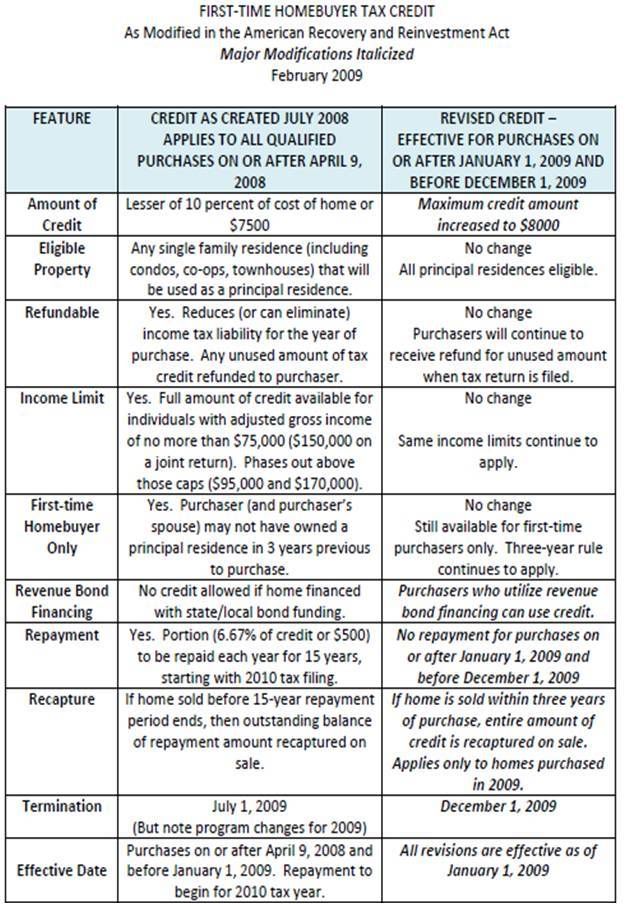 .
Full text of all housing related elements is here: http://www.realtor.org/government_affairs/gapublic/american_recovery_reinvestment_act_home
---