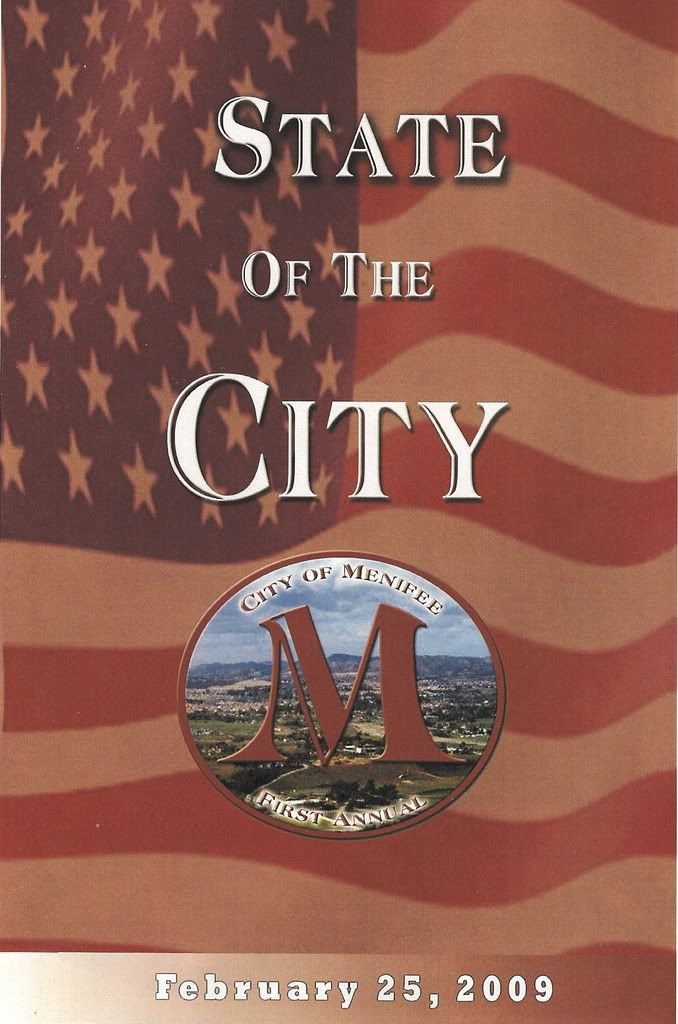 An assortment of business and civic leaders gathered today for the inaugural State of the City address for California's newest city, Menifee (incorporated October 1, 2008). It was a low-key event compared to many I've attended but the atmosphere was positive and upbeat and, dare I say, small-town America friendly. It was held at the Sun City (now part of the City of Menifee) Masonic Lodge. The room was hot, the sound system archaic, the food was bland but nobody cared because there was a sense of enthusiasm and purpose in the message and it was great fun to be a part of this 1st celebration.
After a prolonged introduction of VIP's including council members from neighboring cities as well as representatives of county, state and federal legislators, 3rd District Jeff Stone gave the Welcome Announcement. There have been times past when I have been less than complimentary of Jeff but he has grown remarkably in the Supervisors role. His talk was candid yet optimistic about the challenges facing  our nation, our state and our region. The very thought that citizens would want to incorporate a city during these trying economic times is a testimony to the American spirit. Jeff provided insights on the recent budget battles in Sacramento and the impact those decisions will have on our municipalities.
Frequent readers are aware that though California as a whole is tragically liberal Democratic, the Inland Empire and especially our region of Southwest California is delightfully conservative Republican – one reason our region does better than many other areas of the state. So while there were some jabs thrown at the recent stimulus bill, our leaders are not one to look a gift horse in the mouth. If there's pork to be ladled out, we're lining up with our BBQ sauce to make the most of it. Since most of us work hard and pay our share of taxes, no use letting all that government generosity with our money go only to the undeserving and the ungrateful. So we will continue to build roads and infrastructure while keeping as many people as possible employed. And while the county is facing fiscal challenges, Jeff has introduced a SCRAPE Program designed to cut waste, reduce consumption of resources and increase our environmental sensitivity while maintaining service in this fast growing region.
Mayor Wallace Edgerton's address was equally upbeat. In spite of being brand new, in spite of star-up costs and in spite of property tax revenue significantly lower than forecast, the City is anticipating a budget surplus of over $5 million this year. Frequently citing Etionne's search for the 'heart and soul of a city', Mayor Edgerton confessed it was probably a little early to determine the heart and soul of Menifee. But he cited several examples of the search for the heart.
He noted the attendance of officials from neighboring cities as a conduit to the heart of our region. As our region progresses, so too will the prosperity of ALL our cities – not just one or another but all together. He applauded the staff that has been assembled to guide the young city, noting a level of experience well in advance of many established cities, let alone a city so new. These people are the heart of city government. He pointed to the new mall as the business heart of the city,  Mt. San Jacinto college as the cultural and educational heart of the city, and the way the citizens themselves have come together behind the city as the caring heart of the city
After the week we've had – between our state legislature's double dealings and tax increases, and the Obama dog & pony circus, this is the event that should have been televised as a heartland success story and a very upbeat way to end the week.
Unfortunately we've still got a couple days left. No doubt somebody'll figure out some way to screw it up.
But not in Menifee.
(Your Association was a proud sponsor of this event)

---