As you may be aware from recent articles, the newly expanded Rancho Springs Medical Center has not been able to open due to some bureaucratic BS. The $53 million, 72,000 SqFt center has been completed since the end of last year and staffed since January. Yet the two state agencies that are responsible for licensing and certification have been playing politics with the health of Southwest California Citizens.
To classify this as disgraceful behavior would be an understatement.
If you've read some of the recent media reports, you know that they are claiming compliance issues as their rationale for not approving the opening – however, many of the situations they cite are directly related to the overcrowding of the existing facility and would no longer be an issue with the expansion into the new facilities. By the way, the new facility offers
nearly

30 private emergency rooms

– no more stacking emergency patients ion halls awaiting treatment.
a

womans care center

– including south County's first

neo-natal intensive care unit

(NICU). No more emergency flights of our areas babies to Loma Linda and beyond.
2 neo-natal

surgical suites

allows for expansion of beds in the current facility –

no more waiting in the ER halls

for days for a bed to become available or shipping local patients out of area to hospitals with beds.
I could go on and on about how much this facility is needed and how stupid that it is not open. I could also point out some of the
behind-the-scenes political games
played by the unions and others to try to force the hospital administration to jump through hoops – but right now we need
YOUR
help. Please click on the link below to have your voice heard and let these bureaucrats know that our lives are not pawns for their cheap political stunts.
OPEN OUR HOSPITAL NOW!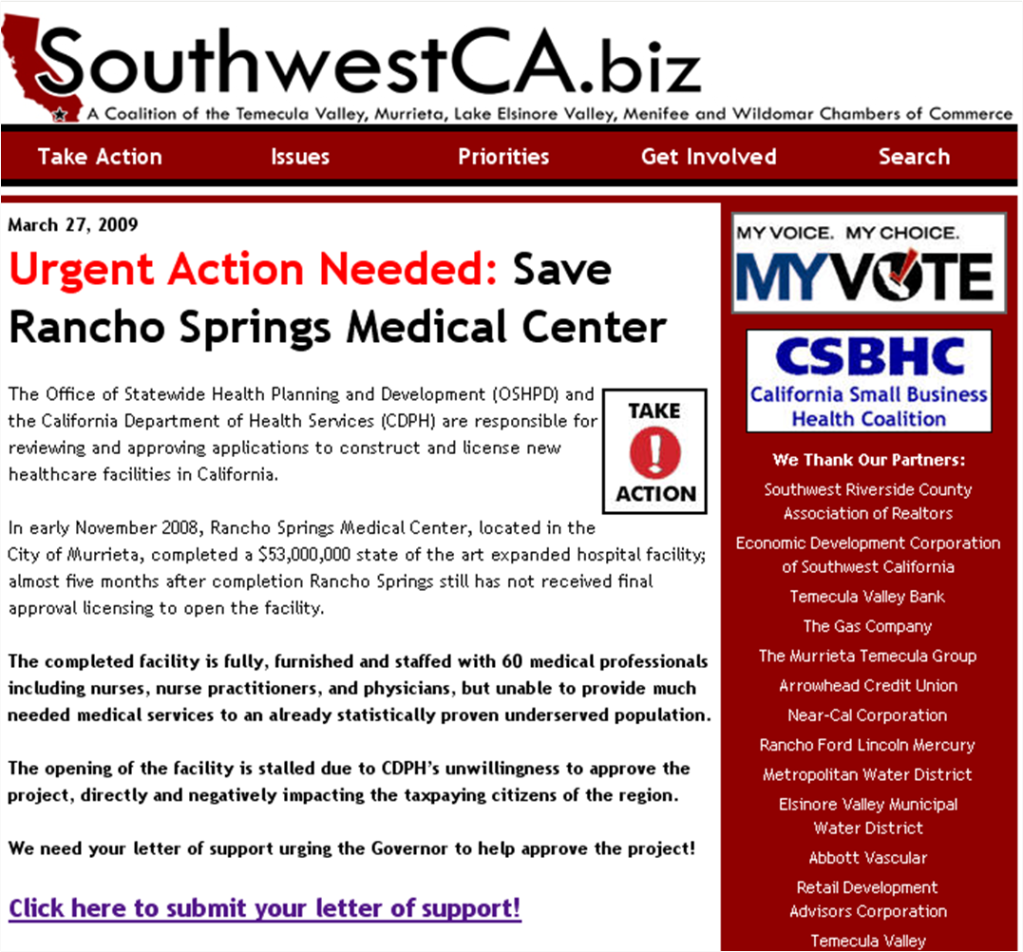 ---