Following last month's article on local homes sales, I was asked by several readers if the data was available in chart format. As indicated, 4 of our 5 regional cities posted record home sales in 2008 despite the challenges of the national economy, California's personal budget struggles and rising unemployment numbers.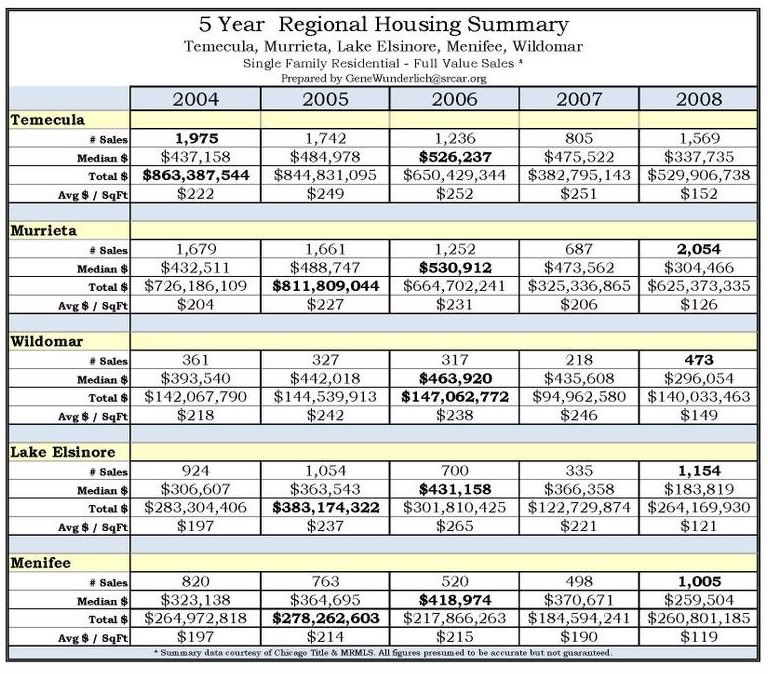 That resurgence was at least partially behind a recent Forbes.com article entitled 'America's Post-Subprime Boomtowns'. (http://www.forbes.com/2008/12/11/foreclosure-home-sales-forbeslife-cx_mw_1211realestate.html) It calls out the top ten markets in the country that, in some cases have suffered the most as a result of the sub-prime melt-down, but that are poised to come roaring back after the fall. Not surprisingly, California cities are in 7 of the top 10 spots – and right up at the top of the list are Perris at #5, Temecula at #3 and Murrieta at #1.
"Woodbridge joins Murrieta, Calif., Queen Creek, Ariz., and Port St. Lucie, Fla., on a list of towns that have been ravaged by subprime mortgages and foreclosures but where buyers are returning to the market. Using data from RealtyTrac, an Irvine, Calif.-based foreclosure listing firm, we examined every U.S. town with a population under 100,000 to identify places where purchases of foreclosed properties have surged most in the last year to get a sense of the towns in which buyers are investing" according to the Forbes article.
Rounding out the top 10 for California is Brentwood at #4, Antelope at #6, Hesperia at #8 and Lincoln at #10. Only Woodbridge, VA (#2), Queen Creek, AZ (#7) and Port Saint Lucie, FL (#9) scored from outside the Golden State.
Accompanying the article is a slideshow highlighting sales figures and median price information on each of the markets citing data from RealtyTrac, the Bureau of Labor, Foreclosure Radar and others.
If there was ever a doubt in your mind about our status in a year or two, a quick read through this article will let you sleep a little easier at night. First time homebuyers and investors are taking advantage of historically low interest rates, buyer incentives (including the recent $8,000 first time homebuyer credit), and a continuing inventory of fire-sale priced homes to move-in and move-up. As that inventory starts to decrease, prices will start to increase.
In a companion article entitled 'America's Best Long Term Housing Bets', California failed to score a top 10 position citing the roller-coaster nature of our market. If you can time the peaks and troughs here, you'll do extremely well. If you can't, well…. Perhaps that's why we scored the top five positions in 'America's Luxury Foreclosure Capitols' with Laguna Niguel, San Juan Capistrano, Ladera Ranch, Tustin Foothills and San Jose.
We did only moderately better with 'America's Fastest Changing Cities' where Los Angeles claimed the top spot as a result of its massive out-migration. Perhaps not surprisingly, we did extremely well on the list of 'America's 100 Most Expensive Zip Codes' and we also scored several awards among 'America's Most Expensive Homes', including the #1 home at $165 million in Bel Air as well as #2 at a paltry $125 million in Beverly Hills.
One other list where we failed to make the grade (gratifyingly) was 'America's Fastest Dying Cities'. #1 on that hit parade, Bensenville, IL, followed by Kokomo, IN and Austintown and Middletown OH. Most of these places are located in the rust belt and auto manufacturing and related industries factor heavily in their make-up.
After the pounding we've taken the past couple years, I'm still happy to be sitting here in Murrieta, CA (#1 Boomtown) on a rainy March afternoon instead of up to my cajones in snow in Hamtramck, MI (#8 Dying). No offense to Michiganders.
---