I don't personally care if you're for or against the Liberty Quarry Project proposed for the foothills southwest of Temecula. All I ask is before you engage me in a discussion, please have some facts at your disposal. I get real tired of emotional arguments proferred as facts, out-and-out lies and mis-statements masquerading as the truth, and NIMBY and environmental whack-jobs trying to sway me to their cause by increasing the volume of their rhetoric. Simply yelling BS loudly does not make it a fact – it merely makes it loud BS.
OK. Now that we're clear on the ground rules, the Southwest Riverside County Association of Realtors has been evaluating the Granite Construction project at Liberty Quarry. This is a major project that may be a neighbor to our community for the next 75 or 80 years. To that end, we have had a presentation by members of the anti-quarry group Save our Southwest Hills and yesterday 4 members of our Board took a tour of Granite Construction's Indio Quarry and then trekked into the southwest hills to look over the proposed Liberty site.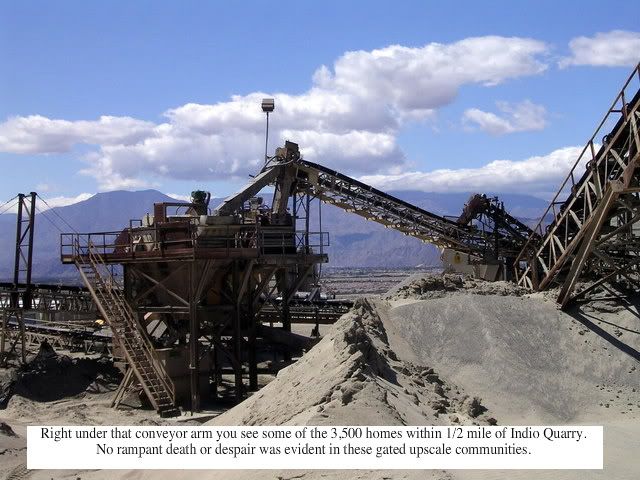 The BOD has not made a decision on whether or not to support the quarry proposal itself. There are numerous facts in evidence to justify support as well as some negative concerns. But I suspect that based on our criteria, the issue will be adjudged 'not real estate related'. Though the foundational use of aggregate underlies real estate in Southwest County, our homes, businesses and infrastructure, the subjective issue of quarry location is not in itself a Realtor issue. You can make up your own mind as to need & location but I encourage you to get ALL the facts before making that decision.
What is an issue for us, however, is a private property rights issue concernoing the proposed annexation by the City of Temecula of the land on which the quarry would be sited. That issue is fairly simple.
There is a

Seller (or Sellers) who are willing to sell their land

There is a

Buyer (Granite Construction) ready, willing and able to buy the land

The

land is zoned 'rr20 w/mining allowed'

as it's highest and best use. The

zoning is appropriate for the intended use

by Granite Construction.That zoning pre-dates the existence of the City of Temecula and recognizes the critical role that mining plays in our economic structure.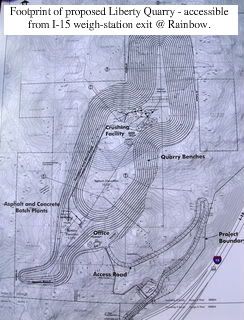 We are looking into the property rights aspect of this issue by trying to make sense of the documents that all parties have/or will submit to LAFCO prior to their June 4 hearing on annexation. In addition to concerns of a taking – and – downzoning by the City, there are also concerns with the letter of the annexation law. For a city to annex land (remember Temecula/Redhawk & Murrieta/East Murrieta), they must be able to prove that the acquisition will be productive – in other words, you can't just acquire something that will put a negative drain on city resources – there must be some common good.
The City states that their annexation plans are valid and justified and would not result in an appreciable change to the underlying zoning, it would merely provide the element of local control on the land. And in part, the city may have used some sketchy numbers to pad up the numbers in the report by including plans for the construction of 81 custom homes on part of the land. Now if you've seen the area you know that the area:
is simply

not conducive to residential/estate development

due to the steep rocky nature of the land, lack of access and utilities. If it was that damned easy and attractive, the current landowners would have built there years ago.
the City claims they will have no responsibility for infrastructure or development in the area. If residents want to build here, they are responsible to bring in their own utilities, roads, power, etc. It's not too surprising that many of the current landowners are all in favor of this  project. Let's see – on the one hand we can keep this worthles pile of gravel we bought that we could never afford to build on – on the other hand we can sell to this big company for a tidy sum. Hmmmm, tough call, eh? The City offers one further scenario – they maybe can sell it to a wildlife preserve for probably a less tidy sum.
will

NEVER pay for itself

because residential property is a drain on city resources, not a benefit. In a nutshell that's why the City of Temecula is in better fiscal condition that Murrieta – because they have a larger commercial base whereas Murrieta is primarily relying on a residential base. But in this case they seem to be playing against type.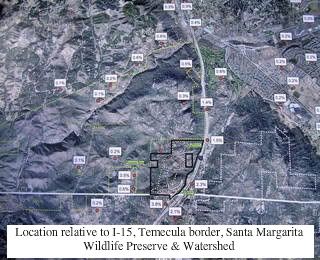 You should also know that 85% of the area is already zoned for habitat and open space. Granite Construction is planning to buy about 400 acres and, in compliance with county, state & federal mandates, their quarry will be confined to just 150 of those acres – none within line of site of any area of Temecula, the I-15 or much of anywhere other than aircraft.
Again, you can choose to believe or disbelieve facts pertaining to air quality, silica dust, asphalt production, traffic reductions, the cost of aggregate to our local market or any of the myriad of pertinent issues. I encourage you to visit some of the websites on the issue to get your own facts and make your own informed decision as to the quarry itself.
However, if someone tells you it will be the largest open pit mine in the country, that they will be blasting 24 hours a day with baseball field lights on all night, that it will encroach on the wildlife preserve or the Santa Margarita river watershed, that it will increase truck traffic or that we simply don't need or would not benefit from local access to aggregate products, they're dissembling.
For more information please visit: Granite Construction , The City of Temecula, or LibertyQuarry Facts.
Please plan to attend the Granite Construction presentation at our Tuesday morning marketing meeting on April 21st and bring your questions for the  Q & A. And our special guests on 4/28 will be Temecula Mayor Maryann Edwards and City Manager Sean Nelson.
On the issue of private property rights, there can be no question where Realtors stand.
---