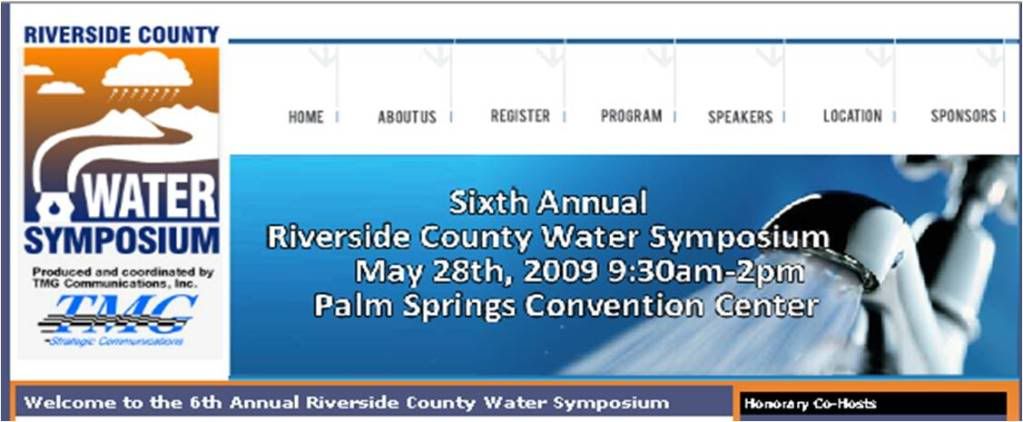 Today marked the 6th Annual Riverside County Water Symposium. The event featured a series of panels and speakers discussing the water challenges facing our state today. The keynote was delivered by Michael Chrisman, California Secretary for Natural Resources.
Riverside County Supervisor Marion Ashley set the tone by stating that we are literally playing Russian Roulette with the Sacramento Delta. One little mis-hap, a flood, an earthquake, terrorist threat or an angry gopher could disrupt the water supply to 25 million Californians and dramatically impact the economy of this state for decades. As he noted, we'd be up a creek all right but it would be a dry creek. We can't conserve our way out of this mess – we must address and resolve some of the fundamental problems with our systems starting with the Sacramento Delta. When the Delta fails – not if but when, it will make Katrina and Andrew look like childs play in terms of damage to the area, the ecosystem and the state's economy.
I don't think it comes as a big surprise that our water systems, much of it built 30 – 50 years ago, was never designed or intended to meet today's demand. And while environmental concerns have acted to restrict the flow of existing water (see Delta Smelt), those same concerns have prevented us from developing new resources or re-working other solutions (peripheral canal). In the past 100 years we've relied on big projects, big technological developments and throwing big money at it. That's not viable in the 21st Century where we face higher demand with fewer resources and less money.
One thing they all agreed on, we've witnessed the end of the era of cheap water. You are no longer assured of getting all the water you want – rather they'll be working hard just to get you all the water you  need, and at a price you can still afford. After all, Western Municipal, which provides most of  Southern California's water to our local providers, is implementing a 19.7% increase this September followed by another 21% jump in 2011.  Tiered pricing will become the norm with conservation being rewarded while profligate use will be penalized. After all, upwards of 80% of domestic water use is OUTSIDE the home with as much as 50% of that is wasted in run-off, over-spray, etc.  If homeowners worked their land like farmers, we could dramatically decrease water usage. But even reduced usage will eventually result in higher bills as infrastructure improvements are required.
Some positive notes – from John Rossi, GM of Western Municipal – 'In every crisis is an opportunity'.  This may be the best time in 25 years to actually fund and implement some real solutions in the Delta in spite of California's economy. But the timing is critical and they are forming coalitions to get active on this NOW. They are encouraged to be working with some of the groups that have been adversaries in the past but have a new view of what can and should happen to the Delta going forward. They are asking Sacramento to stop politicizing the issue. The resource is neither a Democratic nor a Republican resource and the resolution to the issue will be derived by working together. They also wish Sacramento would focus on getting it's own act together and quit issuing new and/or redundant requirements and compliance reports about issues they have no clue. Well, good luck on that one.
They are further encouraged by the possibility of obtaining some bail-out funds for critical projects. However, as one noted, the structure of the bail-out rewards the inept. If you've managed your business right, you probably don't qualify. (Hmmmm, where have we seen that before?) For example, one of the requirements to qualify for Federal funds is to have 'shovel-ready' projects – yet few associations or water departments can afford to plan and implement a project to a shovel-ready state without having had the funding mechanism for the project in place from the out-set. It's one of those catch 22's – you can't develop a project unless you have money but you can't have money until your project's developed. Duhhhh.
Secretary Chrisman noted that we have recently had two prominent California water experts placed in high Federal office, which bodes well for some of our projects. The new Director of the Department of Water Resources has mandated that human costs be factored into consideration along with the customary environmental impact and structural costs. They're also evaluating California Water Law, which currently ranks as the most complex water law in the country. Our combination of old British Water Law, adopted in the 1850's, usufructuary, riparian and appropriative water rights creates quite a challenging environment to work in. He also noted that the Endangered Species Act has been used at times as a very blunt instrument to craft laws and they are petitioning for reconsideration of the Delta Smelt and other 'endangered' species.
As with so many issues facing California today, we are at a crossroads in our water supply. As Mark Twain opined, "Whiskey is for drinkin', water is for fightin' over." It looks like we're coming into the fightin' season for California water right now and, as with all our endeavors, we as Realtors had better be at the table with them – or we'll sure as hell be on the menu.
---