It seemed appropriate this morning that I was driving through the Temecula Valley Wine Country to hear a presentation on the vineyards. It was a glorious morning, the vines have sprouted about a foot of verdant green foliage, there was a gentle ground mist wending its way through the hills and above the mist, two hot air balloons hovered silently. One of those morning calling out for a good camera – which I didn't have.
Now imagine the vineyards, the mist, the balloons didn't exist in Temecula. It almost happened.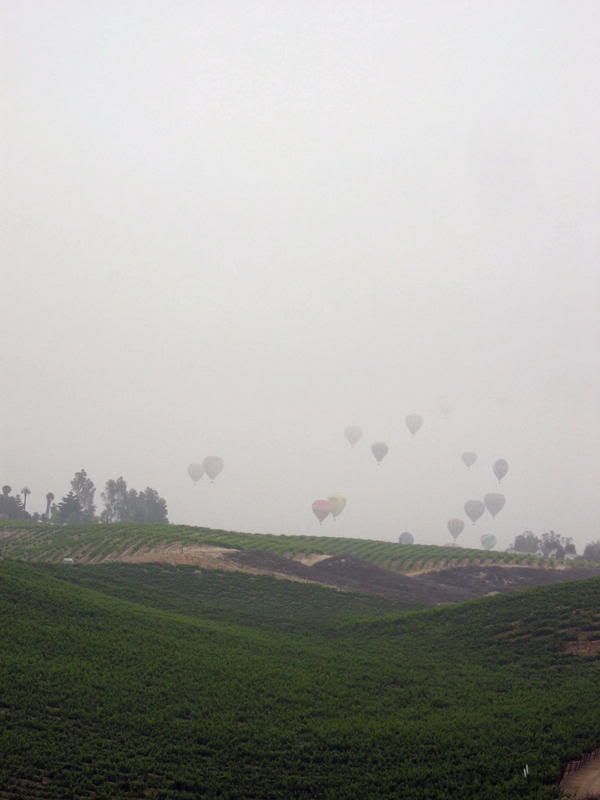 Was it really only ten years ago that Wine Spectator Magazine headlined an article 'The End for California Wines'? In the late 90's, a new pest, the Glassy-Winged Sharpshooter (GWSS), caused severe damage to grapevines in California, including wiping out as much as 40% of some Temecula Valley grape stock. The GW Sharpshooter spread a fatal bacterium called Pierce's Disease which had the potential to be as devastating to California's grape crop as the phylloxera had back in the 1980's.
Phylloxera, an aphid like creature fond of snacking on grape vine roots, has been under control for the past several years but remains a background threat if unmanaged. After a decade, they believe the GW Sharpshooter is also largely contained but requires vigilant monitoring and ongoing eradication attempts.
They meaning the team that has been working on this issue for the past ten years and have given our winegrowers a new lease on life. A unique partnership of federal, state and local agriculture departments, industry and research institutions is not only controlling the root louse, but is building a foundation of new information on viticulture diseases in general.
Long time residents remember driving out Rancho California and seeing over 300 acres of vineyard destroyed and plowed under to try to stay ahead of the bug. Local grove manager Ben Drake says "Research helped Temecula recover from our devastating losses. The lessons learned and the partnerships formed here with other industries are helping keep GWSS and PD from spreading to other parts of the state until there is a permanent solution."
What made our outbreak so virulent was that in the past the disease had always transmitted itself via local insects. These local bugs would acquire the bacterium from infected plants growing adjacent to the vineyards. The infection was always transmitted early in the season and could be controlled.
The GWSS brought a new dimension to the game by being able to acquire the infection from either an infected plant or an infected vine and then passing it on to every vine it subsequently lunched on. Prior to GWSS, vine-to-vine transmission was virtually unheard of. And with the infection period spread across the whole growing season, the collapse of water-bearing capillaries was deadly.
Mounting a massive attack funded by federal and state government with significant contributions by wineries statewide, the insect spread has been contained and there are areas of Napa & Sonoma where the insect has been eradicated. In monitored vineyards, and neighboring citrus groves, where the GWSS winter, there has not been a single infestation or major damage report for several years.
These folks are an optimistic and focused group. They regaled us with tales of Green Zone Barriers, biological control, and the fascinating life of a GWSS, complete with photos and a specimen display. But it is a great example of things going right, for a change. And of a lot of people cooperating, including legislators, business owners, universities and more. For more information on this chapter of California history, visit Pierce's Disease Control Program or PD/GWSS Forum. It is an ongoing battle as is the need for funding to continue.
I would feel a lot more comfortable if these people were looking into the swine flu bug for us.
---