You've frequently heard me refer to the Otto von Bismark quote about laws and sausages being two things people are better off not seeing made in person. Well, the LA Times published an article yesterday on the sausage making process we just witnessed in Sacramento.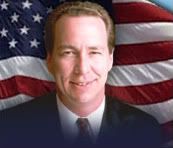 The Times also had some carefully parsed words for our own Senator Hollingsworth. While they were careful to maintain their liberally correct stance by pointing out how conservative Hollingsworth is and what an unusual alliance he has formed both with the Governor and his Chief of Staff, they did admit that Hollingsworth is usually the first to arrive at meetings and the last to leave and has been known to enjoy a stogie with the Gov.
I'm guessing maybe Senator Hollingsworth had something to do with the Governor finding his balls again during this process. After the Teachers Association, the Prison Guards Union and the SEIU deftly removed them and hid them back in 2005, the Gov has been a shadow of the man we thought we elected to replace the Grey Man. However, Arnie has been waving the old saber around again, he  actually vetoed numerous line items including many that are near and dear to the hearts of liberals, and though the budget has numerous gimmicks and smoke shrouded fixes, it DOES NOT contain any new taxes.
Is it merely coincidence he has been spending more time with Hollingsworth? I think not. My guess is Dennis has spent time walking the Governor down memory lane back to the days when he was popular, when people had high expectations of him, when he was a man of stature and substance, in short, back to when he was a Republican.
Unexpected, if not unholy, alliances
There was one near-constant in the budget talks: Dennis Hollingsworth was the first one into the governor's office and the last one out.
The Senate Republican leader from Murrieta forged a close alliance with Schwarzenegger; the pair were repeatedly spotted by staff and fellow lawmakers puffing on cigars in the governor's courtyard smoking tent, even after hours of fractious budget talks.
Schwarzenegger has long had his favorites among the legislative leaders; no one expected that one would be Hollingsworth. After all, the Christian conservative rose to power in February in a midnight coup by bashing the last Schwarzenegger budget deal and blasting the closed-door negotiations that spawned it.
Even more unlikely, however, was the kinship struck between Hollingsworth, an ardent opponent of gay marriage, and Schwarzenegger's Democratic chief of staff, Susan Kennedy, who married another woman in a ceremony in Hawaii about 10 years ago.
They, too, bonded over cigars. Kennedy is known to have some of the finest in the house.
Coincidence or not, I'd like to thank the Senator for helping Arnie find his balls again and for keeping the truculent and timid Republicans in line this time around. With more Hollingsworth's and fewer Adams' and Maldonado's, we might actually get this state running again.
You can also read the entire budget summary here together with 9 pages of the Gov's line item vetoes.
---