On September 24, the Murrieta Chamber of Commerce held its inaugural Salute to Public Safety honoring the men and women of Murrieta's Police and Fire Departments. Chamber Chair Bob Hagel presented a commendation to Murrieta Mayor Gary Thomasian noting that a recent FBI statistic named Murrieta as the second safest city in the country. Our 90 sworn officers, 61 firefighters, civilian members, staff and volunteers are the reason why.
Following a welcome by Chamber CEO Rex Oliver, Master of Ceremonies Gene Wunderlich introduced representatives from the Governor's Office, from Mary Bono-Mack's office, Senator Hollingsworth's office and Assemblymember Kevin Jeffries. In addition to Mayor Thomasian, Council members Rick Gibbs and Randon Lane along with City Manager Rick Dudley were in attendance to honor Murrieta's finest.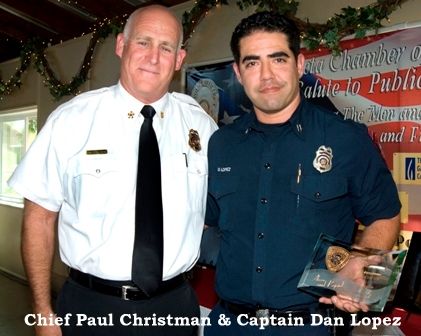 Fire Chief Paul Christman came forward to recognize Art Durbin as the Fire Departments 'Staff Member of the Year' and Captain Dan Lopez as 'Firefighter of the Year'. Durbin, who joined the department in 2004, serves as the Emergency Services coordinator for the Department, supervising their 23 paramedics. In addition to having been an emergency room RN, Durbin is also a faculty member at Mt. San Jacinto College in the EMS Department and is recognized throughout Riverside County as an expert in pre-hospital medical care.
Captain Lopez joined the MFD in 2000 as part of their first ever paramedic class. In 2007 he led the department's Rookie Academy training 13 new firefighters/paramedics. The ongoing safety of Murrieta residents can largely be attributed to the outstanding training delivered to the MFD by Captain Lopez and his team.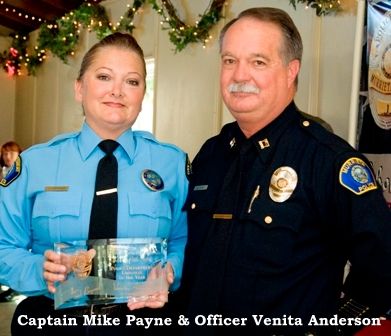 Captain Mike Payne was next to the podium to introduce the Murrieta Police Departments 'Non-sworn Police Officer of the Year' Venita Anderson. A member of the MPD since 1998, Anderson was named the Department's Civilian of the Year in 1999. She has worked in records, and property & evidence but her current recognition comes from her service in helping residents as a Code Enforcement Officer. In her spare time she also bakes cookies for her son and a number of other servicemen serving in Iraq.
Finally Captain Steve Porter came forward to recognize Murrieta's 'Police Officer of the Year', Corporal Daryl Underwood. Joining the department in 2001 from the Riverside County Sheriff's Department, Underwood has served in Patrol, as a SWAT team member and is currently a K9 Officer, serving alongside his trusty companion and partner, Jango. Underwood received a Chief's Citation in 2002, was selected Officer of the Year in 2003, was recognized by the Elks Club for outstanding public service in 2004 and promoted to Corporal in 2007.
It was noted that Underwood may be the only officer in the K9 corps who can outrun his 4 legged partner given that Underwood is a member of the MPD Vegas Run team that has won their class 5 out of the past six years. He also recently participated in a bike ride along with fellow officers stretching from the Pacific to the Atlantic to raise money for the Lance Armstrong Cancer Research Foundation. Bad guys can't run from Corporal Underwood.
Ironically, about 10 minutes into the program, all the firefighters got up and left, called to douse a blaze that had just sprung up on Murrieta's west side above Bear Creek. By the time the luncheon was over, so was the fire. Our community owes a debt of gratitude to these dedicated public safety officers for their efforts 'above and beyond' the call of duty for making our City one of the safest in the nation. A special thanks to the Murrieta Chamber of Commerce for recognizing these outstanding individuals and the departments they serve. Photo credit: Carl Kravats Photography
---