The City of Murrieta held their 2009 Veterans Day Parade and Groundbreaking for their Veterans Memorial today. It was a Chamber of Commerce day, hazy skies keeping the sun from blistering the thousands of people lining Washington Avenue while more than 80 parade entries honored our Veterans. Vintage cars carried vintage Veterans, dignitaries paid tribute, the La Mesa Warbirds swooped overhead, there were motorcycle veterans, submariners from the silent service, marching bands, color guards, Boy Scouts, Cub Scouts and Girl Scouts by the troop.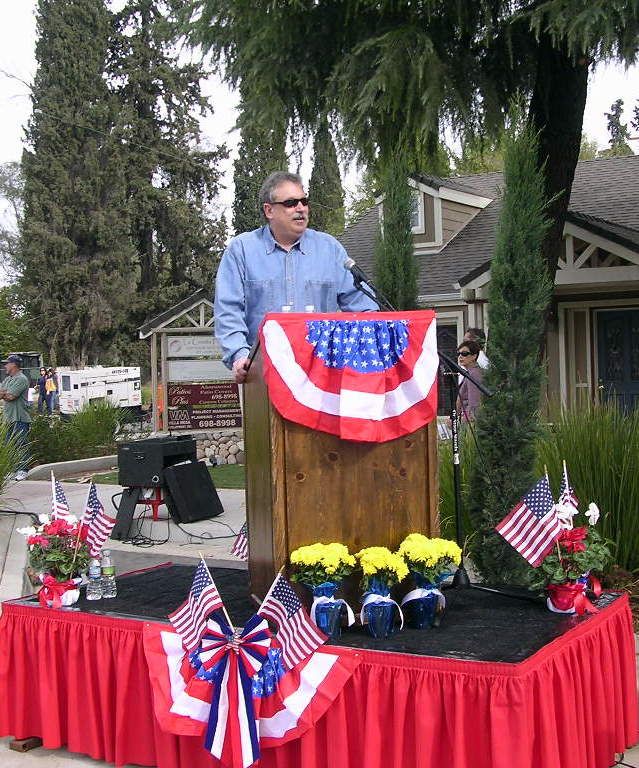 It was my privilege to be one of the parade announcers this year.
Veterans marched, flew and rode by. Some in wheelchairs, some on crutches & canes, some with as regal bearing as when they marched into battle 65 years ago or more.
Members of the US Submarine Veterans paraded a model of the USS Bonefish. (SS-582), the last conventionally powered submarine in the US Navy. Decommissioned in 1988, this model is 1/10 the size of the 219′ Bonefish, which carried a crew of 84.
3 Bands and several marching groups sported color guards and precision flag movements.
Among the marchers today, which included a 9′ cow (Chic Fil A), an 11′ Lake Monster known as Thunder, twirlers, karate kids and a Clydesdale named Diesel,  Realtors from Tarbell Realtors in Murrieta fielded a marching unit which included several veterans who are braving the housing wars today. Always good to see Realtors® in the mix on a day like today.
Is it just me – or do veterans tend to drive vintage & classic automobiles a lot? The Model A Club brought their A game starting with A's from 1928 and a pair from 1930. There were Jeeps from 1943 and 1951, a '51 Dodge 3/4 ton M37, a 1959 black Caddie all chromed and finned just gleaming down the street. There was also a NASCAR tribute car, Emergency response vehicles, convertibles galore and they were all loaded with Veterans.
From the parade, we trekked over to Town Square Park for the goundbreaking ceremony for the Murrieta Veterans Memorial. To reach the event you had to walk past or through the Field of Honor. Erected the past few days by the Murrieta Rotary Club, the Field is 1,200 American Flags across the city park.
Every flag was purchased by an individual in honor or memory of a veteran. The moneys are being used to install the granite wall that will become the Veterans Memorial.
Prior to the groundbreaking, a pantheon of local dignitaries, Mayors, Council members, and guests thanked our veterans for their service. Grand Marshall and WWII Marine Corp Veteran Harold Craig was introduced and over 2 dozen WWII veterans were with him. Among the speakers, Murrieta Council Member and veteran Rick Gibbs gave an eloquent tribute to veterans including many in his family for whom he flew flags in the Field of Honor. Congresswoman Mary Bono-Mack also praised the veterans telling the story of her father, also a veteran who died just last year, who returned to marry his sweetheart against long odds.
In this photo Mary Bono-Mack pays tribute to our armed forces as hundreds of veterans, dignitaries and townspeople gathered against the backdrop of 1,200 American Flags in the Field of Honor.
Overall not a bad day in our little corner of the world. Our hearts went out to the recent casualties at Ft. Hood, great respect was given to those who protect us today, and great tribute was paid to those who have taken up that duty in the past.
Our town is not as small as it used to be – but today the town turned out en mass to celebrate, to honor and to have a few hot dogs and rub elbows with the Mayor. It was almost a Groundhog Day kind of event and everything played out beautifully. The parade started on time, nothing broke down, the horses weren't (that) messy and the speeches were blessedly short.
The flags waved softly in a cool breeze and all was right in Murrieta.
Hope your day was good too.
By the way, there's a few more photos at: Murrieta Celebrates Veterans Day.
See you at NAR tomorrow.
---