Lots of good events going on at NAR. I'll let you know what we did at the Land Use, Property Rights and Environment Committee yesterday and comment on our Government Affairs Directors meeting this morning as well as the very entertinaing and enlightening Legislative Forum featuring Bill Press and Mike Murphy. But today at noon we spent 'An Hour with the FHA Commissioner'.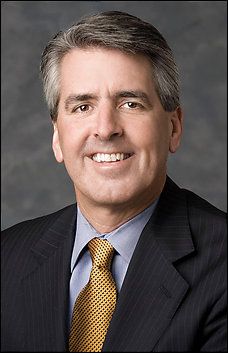 It's amazing the difference it makes when you have somebody in a position of authority who actually knows what they're doing as opposed to putting a bunch of bureaucrats and political hacks in charge. Commissioner and Under-Secretary of Housing Dave Stevens is one of us. Just like in the state of California we finally got Jeff Davi in place to help straighten out the Dept. or Real Estate, Realtors should consider ourselves lucky to have Dave Stevens minding the store at HUD.
After hearing the apologists and sycophants discuss HVCC yesterday, it was gratifying to have a discussion with somebody who listens and who, as Pres. McMillan said, 'Gets It.' According to Charlie Mac, the FHA & Stevens has been a 'solid partner'.
Speaking before a packed house, Stevens gave a brief history of the FHA. Created in 1934, the FHA came into existence during circumstances very similar to where we are today. Stevens cited the fact that the FHA had grown kind of unpopular in recent years because they had no 'sexy' products, they insisted on a down payment, they did 30 year fixed loans and they insisted on documentation. As a result, their market share sank to around 2% from 2002 thru 2006. However, last year they wrote about 25% of the loans out there and this years percentage will be even higher. They also wrote over 80% of loans for first time buyers, 51% of loans to Black buyers and 45% of loans to Latino buyers. Fannie & Freddie combined only managed around 25% to that same demographic.
Stevens said that there would be no mortgage market today if FHA hadn't been in place to fill the gap created by the collapse of sub-prime lenders. And that even though FHA's capitol is eroding as a result of the current crisis, they have neither requested nor accepted any TARP or other bail-out funds and their balance sheet is still strong. He stressed that the FHA will not be the next sub-prime or GSE because the FHA focuses on buyers for whom a purchase is shelter, not an investment, not a speculation. The people who buy a house to mark their kids growth on the wall, who plant a garden, who take pride in their home and their neighborhood.
Not that the FHA has a problem with investors – in fact without them the market would not have recovered to the point it has today. He did not elaborate and was not questioned on the possibility of doing away with the 90 day flipping rule or on expanding the number of properties that one investor can own saying only that each buyers credentials must be weighed on it's own merit.
He credited discussion with Charles McMillan with swaying FHA policy regarding HVCC implementation saying they realize the importance of the independent appraiser and are concerned about the proliferation of AMC's, especially those owned by major lenders. He said they intend to apply the principles of HVCC as it was intended, not as it has actually been implemented. Along those lines he also announced that effective Monday there will be NO MORE 2nd appraisal requirements for FHA. That he also credited to Pres. McMillan. That's a major step for FHA and one that should be welcome by our members.
He also gave kudos to his boss, HUD Secretary Shaun Donovan, as being a true 'rock star' and visionary who also 'gets it' about the need to stabilize housing to  lead the way in this nascent recovery. He also gave great accolades to the Realtor community for pulling off the homebuyer tax credit not just once but twice this year – once during its initial passage back in March and again just 2 weeks ago. He said that as recently as 2 months ago he would have bet there would be no extension and certainly no expansion – but with the active lobbying efforts of NAR and the massive (550,000+) letters and emails to congress, we pulled off an upset against long odds, against the media and other pundits, and we should be extremely pleased with out efforts. But don't stop there.
It's always nice to have somebody in authority tell you what you want to hear. It's even nicer when they mean it. Stevens says he's not in the government for the long haul – just to help fix a problem and then he'll be back to selling real estate. I hope he means that too. He's too nice a guy to stay in politics long.

---