Most of you are aware that we will be undergoing a massive redistricting effort  that will impact our County, our State and our Federal elective districts. Certainly in California we've all been aware that in the past decade the political boundaries 1) make no sense and 2) produce landslides for the incumbent party. There are definite Republican Districts and definite Democratic Districts and it's pretty much a waste of time for the alternate party to even field a candidate in those races. One seat has changed parties during the past 10 years out of over 250 separate races. 1!.
But that's all about to change. Californians voted last fall to form a commission to draw the new districts – unlike the last time they were drawn when we let the politicians draw their own. The Commissions report is due out by August and our area will be in for some changes because our region has grown faster than most regions of the state. Our County Supervisor boundaries will be redrawn to reflect the growth in Southwest County and, with the potential election of current Assemblyman Kevin Jeffries to a supervisorial seat, our region could see 2 Supervisors representing Southwest County for the first time EVER. That's good.
At the state level we probably won't see much change but the district  boundaries will definitely be redrawn to make some sense by keeping contiguous city interests in one sphere. Right now Jeffries has a district that runs in skinny strips hither and yon, crossing over Nestande's district in places, running into San Diego County – makes no sense. Our Senatorial District may also see some shifts as Emmerson keeps a more contiguous area of Riverside County while Anderson gives up some of the northern portion of his San Diego District that starts in Chula Vista.
Our regions also stands to pick up an additional federal representative as more of the population has shifted inland from coastal areas. With out region currently split between Calvert, Bono-Mack and Issa, we'll have to see what that means.
Further complicating the political landscape is the new open primary rule, again resulting from the last election. There will no longer be Republican and Democratic primaries, just one big free-fer-all. The top two candidates will run against each other in the fall. The theory is that this will draw more candidates from the middle of the road rather than the ideological edges of party politics. One thing it will do for sure is cost way more money. The rest we'll just have to see about.
Nationally known prognosticator Charlie Cook has recently published his first blush on what that all means to us. His exhaustive report covers the entire country as well as every district within the state. I've included an excerpt here dealing only with our immediate area. Stay tuned. This is going to be an interesting season leading up to next years election.
The Charlie Cool Political Report
California
Redistricting Authority: Commission
Ideal New District Population: 702,905
Current Partisan Breakdown: 34 D, 19 R
2012 Cook Redistricting Forecast: 35 D, 18 R
San Bernardino and Riverside
San Bernardino County has almost enough people for three districts, and commissioners will almost certainly need to draw a Hispanic majority seat anchored by the cities of San Bernardino, Fontana, and Rialto. The question is whether commissioners will try to split Democratic Rep. Joe Baca's current 43rd CD into two parts, paring his district down to his home base in those three cities, and putting Ontario in a separate Hispanic majority district. There will almost certainly need to be a Republican-leaning district anchored by the fast-growing Victor Valley area to the north, and the fate of Chino to the south is anyone's guess.
Riverside County grew 42 percent in the last decade and surpassed San Bernardino, adding enough people for slightly over three whole districts. There is very big redistricting upside for Democrats here: Riverside gave President Obama a majority of its vote in 2008, yet all four of its districts are represented by Republicans. The most talked-about scenario calls for commissioners to create a new Hispanic majority district taking in Corona/Norco, Riverside and Moreno Valley. This seat would have a significant Democratic edge and could include the Corona home of GOP Rep. Ken Calvert, whose 44th CD is already 43 percent Hispanic.
In fact, surging Hispanic population and political participation in Riverside County explains why Calvert, who routinely had cruised to reelection since 1992, was nearly caught napping in 2008 when underfunded Democratic teachers' union organizer Bill Hedrick took 49 percent of the vote. Calvert's 44th CD needs to lose 141,851 residents, so it's possible a new GOP-leaning district in southwestern Riverside County will complement a Hispanic majority district to the north. Calvert could run here, but he would almost certainly have to overcome primary competition in a vastly new district; Calvert took only 66 percent in his 2010 primary against a challenger who spent just $17,000.
The fastest growing district in the state was GOP Rep. Mary Bono Mack's 45th CD based in explosive Palm Springs and Hemet in eastern Riverside County. The 45th needs to shed 211,304 residents. There are rumors Bono Mack may be considering an early exit from Congress to help her husband, Florida GOP Rep. Connie Mack IV, with his prospective Senate bid. If that happens, this district could be highly competitive. But Republicans would be somewhat relieved if the eastern reaches of the 45th CD, such as Moreno Valley, were lopped off into a new Hispanic majority seat, boosting the 45th CD's GOP performance.
There's virtually no way commissioners will draw new districts that endanger GOP Reps. Darrell Issa (CA-49) and Duncan Hunter (CA-52) in anything other than primaries, unless they draw much of the deeply conservative territory in northern San Diego County into districts with more urban areas, which would be a stretch. A continued 3-2 GOP edge in this southernmost region of the state still seems like the most likely outcome.
As if boundary fortune telling isn't already hazardous enough, the state's new "top two" ballot law has added a whole new layer of complication. In June 2010, voters passed Proposition 14, setting up jungle primaries for all federal and state elections in which the top two vote-getters, regardless of party, will advance to the November general election. Candidates aren't even required to list their party on the ballot anymore. The first indication of the law's impact could come in a July 12th special election to replace resigned Democrat Jane Harman in the Torrance-based 36th CD.
In the new "top two" era, two candidates from the same party can and will compete against each other on the general election ballot in some districts. This is highly unlikely to happen in swing seats, with the possible exception of unusual cases like open seat races where a plethora of candidates from each party would divide up the primary ballot. The more likely impact of this law will be to shut third party and independent candidates out of November elections.
Over the last few years, relatively unpopular incumbents have eked out November races with less than 50 percent of the vote thanks to minor candidates siphoning opposition votes. Unpopular incumbents won't be able to depend on this crutch anymore.
California's brave new world of districts and election laws could seriously endanger 15 or more incumbents. If the commission were to draw districts remotely resembling normal shapes, the incumbents at the most risk in primaries or generals would be those currently sitting in the most gerrymandered districts. Republicans with the most cause for concern are Reps. Dan Lungren (CA-03), Elton Gallegly (CA-24), David Dreier (CA-26), Gary Miller (CA-42), and Ken Calvert (CA-44). The Democrats: Reps. Jerry McNerney (CA-11), Sam Farr (CA-17), Dennis Cardoza (CA-18), Jim Costa (CA-20), Brad Sherman (CA-27), Howard Berman (CA-28), Laura Richardson (CA-37), Grace Napolitano (CA-38), Bob Filner (CA-51), and whoever wins the CA-36 special election in June.
Bottom line: Redistricting may endanger more Democrats in primaries and more Republicans in general elections. Overall, a true incumbent-blind redistricting plan may bequeath Democrats an additional seat or two, given that Republicans currently represent more marginal districts. Eight GOP members sit in districts that voted for President Obama in 2008, while no Democrats sit in districts that voted for GOP presidential nominee John McCain. And if commissioners or judges place an emphasis on maximizing Hispanic voting strength, Hispanic candidates could have new opportunities in as many as five additional districts.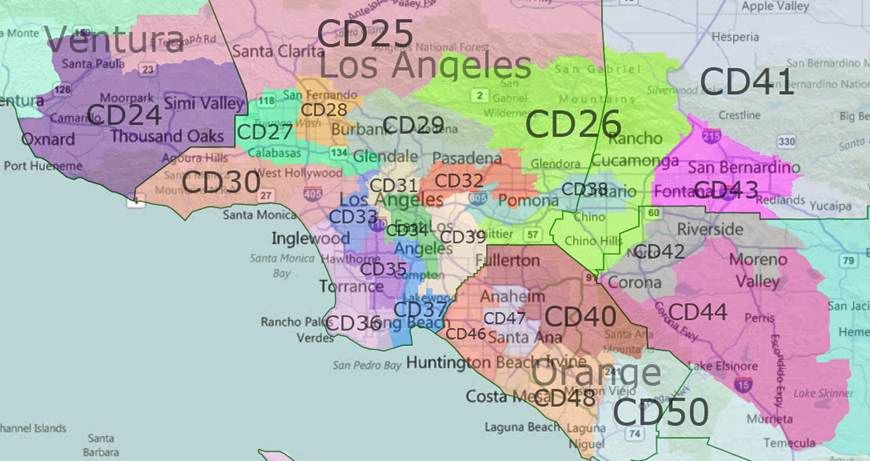 ---