The Temecula Valley Players production of Jesus Christ Superstar enters the final weekend of it's 3 week run this Thursday, April 21 at the Old Town Temecula Theater. Some of you old Hippies will not doubt remember the debut of this exciting piece of musical theater from your halcyon days. For the rest of you, JCS was first staged on Broadway in 1971 as the first rock opera. Staged by Andrew Lloyd Weber with lyrics by Tim Rice,  the piece roughly follows the last week of Jesus' life – provided of course that Jesus had a good voice and was surrounded by lots of singing, dancing Apostles, priests and hookers.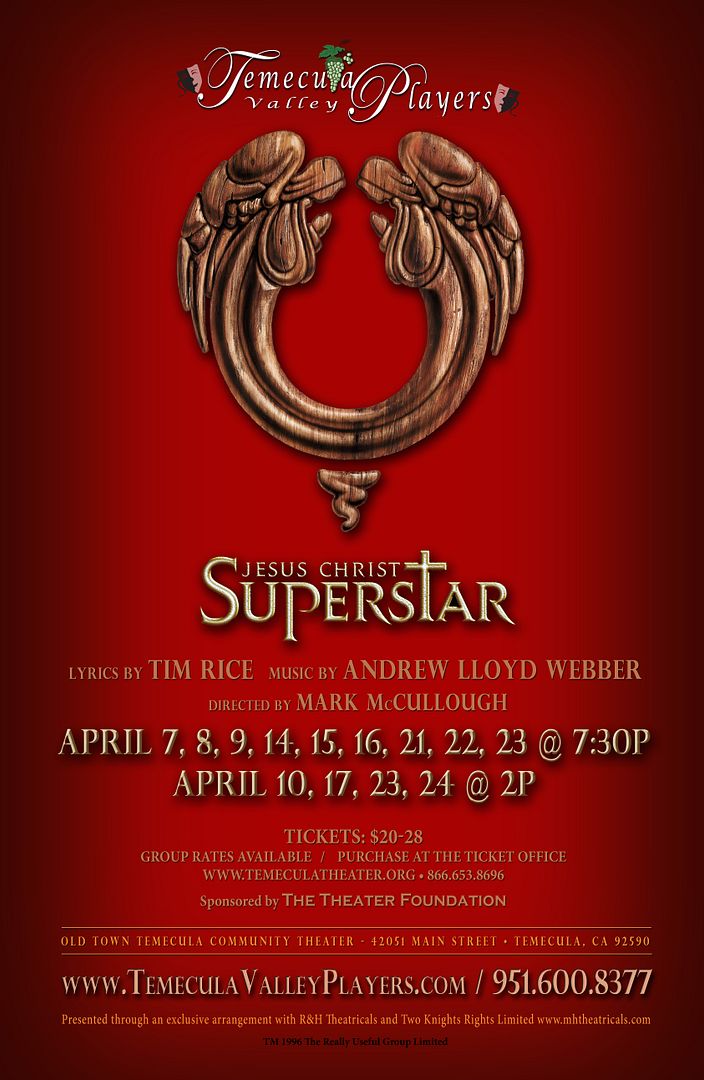 The Temecula Valley Players version is true to the original production and brings together a diverse collection of some of our Valley's most talented thespians. For Director Marc McCullough, staging this production has been a lifelong passion. Jason Call, who channels Ted Neely as Jesus, first played a minor part in the
production when he was 14. Now some 24 years later he has achieved his dream to bring the lead role to the stage. Several of the other players have also had an abiding fascination with this unique piece of theater and have eagerly endured months of rehearsals to fine tune the production.
The cast of nearly 50 people includes youngsters of 7 and 8 years old up to a couple 'senior members' of nearly 60. Many of the actors are what we refer to as
'triple threats', they are equally adept at singing, dancing and acting. I am actually the antithesis of a triple threat in that I can't really sing or act and I certainly can't dance, but I do have a certain presence. Thus the role of High Priest suits me fine as foil to the scheming Annas and the evil Caiaphas.
If you haven't had a chance to catch this local production, tickets for the final 5 performances are gong fast but a few seats remain available. For more information and showtimes visit: Jesus Christ Superstar.
---